Overview
Welcome to the one hundred and fifteenth episode of the Heart + Hustle podcast. We're talking to Gigi Febres-Cordero, owner of Luna Nueva Apothecary. Gigi is an herbalist and has spent the past fifteen years dedicating her life to her craft, creating holistic products like tinctures and body care items that offers something for everyone. Gigi talks about working with an e-commerce shop here in Orlando, running her business with her husband, and how she incorporates herbalism into her everyday life. We also share some quick tips for COVID-19 and navigating the current pandemic climate while still taking care of yourself and your business.
Our listeners get 10% off everything at Luna Nueva Apothecary by using the code 10%heartandhustle.
Follow Us on Social Media
Follow us on Twitter  and Instagram!
Instagram: Charisma | Angelica
Snapchat: @CharismaOKeefe
Meet the hosts: Angelica Yarde and Charisma O'Keefe
We're now on Spotify, Google Play Music, Acast, and Stitcher! Subscribe via Apple Podcasts and rate and review.
About Gigi Febres-Cordero: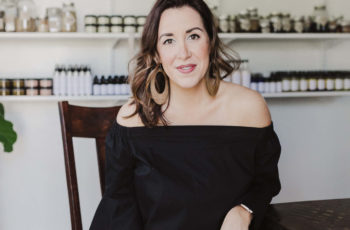 Gigi Febres-Cordero is an herbalist and the founder of Luna Nueva Apothecary. Born and raised in the sunshine state and married to her high school algebra tutor. She found her love for plants at an early age when she used to pick her mom's flowers from their garden and bring them into her bedroom. She met and started studying under her herbal guru, Andrea Hinda, in her early 20s, spending months out of the year deep in the Georgia mountains. It wasn't until her early 30s that she started producing products to sell due to a lack of what she was needing in the market. When the products kept selling she decided to team up with her "math savvy" husband to create a power team. Now, a husband and wife herbalist duo, they are changing the herbal market manufacturing and selling all natural, small batched herbal infused body care and supplements.
Interview Links