Overview
0:00 – 13:40 – We are checking in with Giving Tuesday! You can shop Kismet + Charisma and Studio 404 Paper for the holidays and as they support Love Doesn't Hurt.
13:48 – 80:22 – Today we are talking to Amanda Strange of Cara Mia Brows. Amanda is a cosmetic tattoo artist who owns her own brows studio. She teaches us all about microshading, why women deserve luxury, and ways she's streamlined her business to invite customers who are willing to receive services at a higher price point.
Follow Us on Social Media
Follow us on Twitter and Instagram!
Instagram: Charisma | Angelica
Snapchat: @CharismaOKeefe
Meet the hosts: Angelica Yarde and Charisma O'Keefe
We're now on Amazon Music, Spotify, Google Play Music, Acast, and Stitcher! Subscribe via Apple Podcasts and rate and review.
About Amanda Strange: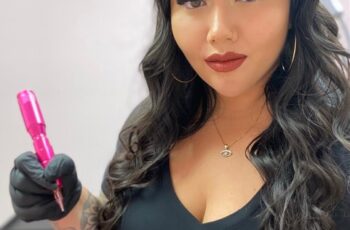 Amanda Strange is a finance boss turned cosmetic tattoo artist. After an MBA and a successful 15 year career in finance, she could no longer ignore her calling to a more creative and artistic field. In 2020, she discovered her passion for making women feel beautiful and got certified as a brow artist. Within 1 year, she took the leap from employee to entrepreneur by launching her own brow studio. She now gets to do what she loves for a living, while uplifting and empowering others in the process.
Amanda is also a writer and former travel blogger, as well as an avid reader, wife and dog mom. Originally from the Washington, DC area, she's traveled extensively and lived in Hawaii, San Diego, and now lives in Tampa, Florida.
Interview Links