Overview
Welcome to the one hundred and third episode of the Heart + Hustle podcast. We're talking to the talented Christie Chirinos of Caldera Labs about everything from values to giving back to your business community. Christie shares her story to becoming partner of Caldera Labs, how traveling and public speaking have helped her as an entrepreneur, and why she values the human element of business.
[Tweet "Who we are as people mix into who we are as business people. via @cicichirinos #BossSoHard"]
[Tweet "Our values are closely tied to why we do what we want to do. via @cicichirinos #BossSoHard"]
Follow Us on Social Media
Follow us on Twitter  and Instagram!
Instagram: Charisma | Angelica
Snapchat: @CharismaOKeefe
Meet the hosts: Angelica Yarde and Charisma O'Keefe
We're now on Google Play Music, Acast, and Stitcher! Subscribe via Apple Podcasts and rate and review.
About Christie Chirinos: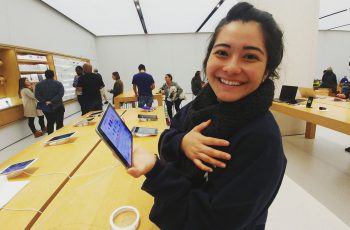 Christie Chirinos was a co-founder of Ingot, which merged into Caldera Labs. She received her Master of Business Administration degree from Florida State University, specializing in information systems management. Christie lives in New York City with her cat, Snickers.
Interview Links
Tip of the Week
"Look for someone who is already doing something and needs you." - Christie Chirinos on partnering in business