Overview
Welcome to the one hundred and fifty-eighth episode of the Heart + Hustle podcast!
0:00 – 4:00 – It's Black History Month! We're just keeping you up-to-date on what we're doing on Instagram this month to highlight Black-owned businesses and creatives throughout this month.
4:00 – 67:11 – One of our favorite guests from year one, Bobbi of Ready to Blog Designs is back to talk to us about what she's been up to. Bobbi drops several gems about her work with the @igersbristol and Start Up Grind Bristol communities, how she's growing her multi-disciplinary creative businesses, how she was inspired to create her A Month of Love Challenge, and how she's celebrating Black History Month.
Follow Us on Social Media
Follow us on Twitter and Instagram!
Instagram: Charisma | Angelica
Snapchat: @CharismaOKeefe
Meet the hosts: Angelica Yarde and Charisma O'Keefe
We're now on Amazon Music, Spotify, Google Play Music, Acast, and Stitcher! Subscribe via Apple Podcasts and rate and review.
About Bobbi O'Gilvie: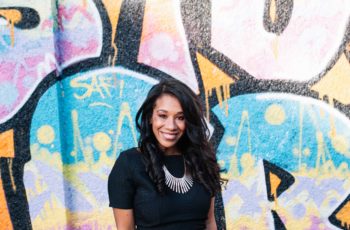 Bobbi is the Founder of Ready to Blog Designs, a studio that focuses on branding, web design, and strategy for the passionate entrepreneur, and a Vision Coach who helps her clients scale to 7-figures through a compassion-based, sustainable approach. She's an avid runner, reader, and adventure-seeker.