Overview
Welcome to the one hundred and sixtieth episode of the Heart + Hustle podcast!
0:00 – 15:39 – We are sharing some quick business updates, giving our guest an intro, and Charisma is sharing her mRNA vaccine experience.
15:39 – 47:39 – Today we catch up with Donna of The Rachet Hipster. Donna shares her career journey from freelance photographer to botanical curator, she shares some ways you can add plants to your home life, and she talks about how she's created a plant consultancy business to help future plant enthusiasts find their way around plant parenthood. Save 15% off at her shop using the code HEARTANDHUSTLE15!
Follow Us on Social Media
Follow us on Twitter and Instagram!
Instagram: Charisma | Angelica
Snapchat: @CharismaOKeefe
Meet the hosts: Angelica Yarde and Charisma O'Keefe
We're now on Amazon Music, Spotify, Google Play Music, Acast, and Stitcher! Subscribe via Apple Podcasts and rate and review.
About Donna: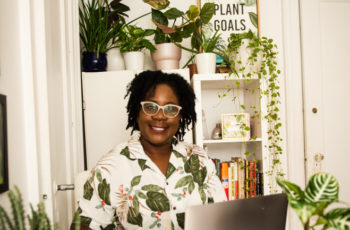 A lifelong plant enthusiast, Donna saw a need for an approachable plant consultant. Thus, The Rachet Hipster was born. Through consultations and education, She empowers you to be confident on your journey to plant parenthood. There is no such thing as a bad plant. You just have to find the right one to thrive in your space.
She lives in New York City, with her husband. She is the mother to over 80 houseplants and 3 humans. When Donna is not caring for her plants, you can find her on the hunt for the best donut in the city.