Overview
Welcome to the seventy-seventh episode of the Heart + Hustle podcast. We're talking to Janna Marlies Maron of Under The Gum Tree magazine about her work in independent publishing and creative storytelling. Janna shares the story of how she saw a need for a niche and created an outlet for creative non-fiction authors. She talks about her job as an editorial director and also why it's important for artists to share their stories without shame.
Today's episode is sponsored by Seth Godin's altMBA. Created by Seth Godin for you, altMBA is an intensive, 4-week online workshop designed to accelerate leaders who are change agents for the future. Apply today at www.altmba.com/heartandhustle.
Follow Us on Social Media
Follow us on Twitter  and Instagram!
Instagram: Charisma | Angelica
Snapchat: @CharismaOKeefe
Meet the hosts: Angelica Yarde and Charisma O'Keefe
We're now on Google Play Music, Acast, and Stitcher! Subscribe via Apple Podcasts and rate and review.
About Janna Marlies Maron: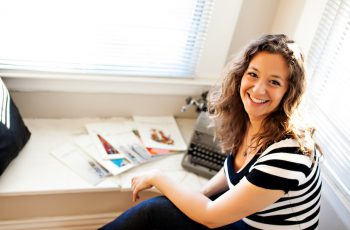 Janna Marlies Maron is an author, editor, and publisher living in Sacramento, California. She is the editorial director for the creative agency Winning Edits; she holds an MA in Creative Writing, and she publishes Under the Gum Tree, a quarterly literary magazine publishing creative nonfiction and visual art. She has self-published several books including How to Manage Depression Without Drugs, her personal story of using story, music, food and ritual to find her way out of depression. If she had to sum up what she's all about in two words they would be: authentic storytelling. That's the core of why she writes, why she publishes stories, and why she teaches others to write their story.
Writing, publishing, and sharing true stories are the main activities that compel Janna to her creative work. She says that writing creative nonfiction is the single most important work she has ever done that moved her to a place of self-acceptance. Some of her creative nonfiction work has been published online in Lunch Ticket and The Manifest-Station.
Janna recently celebrated the five-year anniversary of Under the Gum Tree in October 2016, which is quite an impressive milestone. To celebrate, she coordinated and co-hosted the first ever national nonfiction simulcast—a reading that took place in three different locations across the country and was broadcast online via live-streamed video. During its five-year tenure, Under the Gum Tree has published twenty-four issues and more than 100 artists and writers, and has had nine essays recognized as notable in The Best American Essays of 2013, 2015, and 2016. Under the Gum Tree accepts submissions year round. Submission guidelines and subscriptions are available online at underthegumtree.com.
Interview Links