Overview
Welcome to the one hundred and twenty-ninth episode of the Heart + Hustle podcast.
0:00 – 28:13 – We are back in e-commerce. We are sharing some updates on the progress of our individual product shops, what we've learned, why now is the best time to launch, and what not to do. We'll be sure to follow up in a few more months but we're excited to share Studio 404 Paper, use code BOSSSOHARD for 10% off, (www.studio-404.com) and Kismet + Charisma (www.etsy.com/shop/HelloItsKismet) with you.
28:14 – 65:05 – We are talking with the wonderful Ben O'Keefe about his work as an activist, his most recent job as Senior Creative Lead for the Warren Presidential Campaign, and the current documentary he's making with Stacey Abrams. Ben shares some tips from his long career as an activist, how he's been dealing with COVID-19, and what his plans are for the future.
A special thank you to Madeline Clark for supporting the podcast this week. You can visit Madeline at instagram.com/the_madge_show.
Follow Us on Social Media
Follow us on Twitter and Instagram!
Instagram: Charisma | Angelica
Snapchat: @CharismaOKeefe
Meet the hosts: Angelica Yarde and Charisma O'Keefe
We're now on Spotify, Google Play Music, Acast, and Stitcher! Subscribe via Apple Podcasts and rate and review.
About Ben O'Keefe: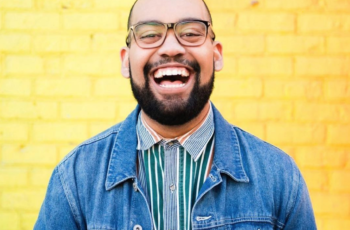 Ben O'Keefe is a producer, progressive strategist, public speaker, and performer.
His work finds him at the intersection of entertainment and politics working with organizations, politicians, celebrities, show-runners, and brands to build creative projects that change the world.
As an activist, he is regarded as a leading voice in the #BlackLivesMatter movement as well as a leader in the LGBTQ+ community. He regularly speaks on topics relating to those communities. His campaign work includes the #TakeDownTheFlag fight to remove the Confederate Flag from the South Carolina Statehouse and the campaign that saved death row inmate Richard Glossip from execution.
He is an alum of giants such as MoveOn.org and MTV News, where he was the head writer of "DECODED" a series on race and pop culture. Most recently, he served as Senior Creative Lead and Director of Creative Outreach & Engagement for Senator Elizabeth Warren's presidential campaign.
Interview Links
Tip of the Week
"The only way to defeat your ignorance is to educate yourself." - Ben O'Keefe